Charlotte Hornets Nest

The police shoot and kill black people at five times the rate they kill white people. That should not come as a surprise as, judging by the number of people who support Donald Trump, forty per cent of America is racist.

And, hey, investigators in good old liberal San Francisco determined that there is rampant racism in their police department. The cops were discovered to be texting each other messages about abusing black suspects. In 2015 it was estimated that over a thousand cases of this kind of behavior needs to be investigated.

SAN FRANCISCO!

---------

Speaking of racists, Donald Trump recently released a list of 88 retired generals and admirals who were publicly supporting him.

88 is kind of an odd number, right? Well, not really. It's white supremacist code. It works like this:

The 8th letter in the alphabet is "H". Two of them together is "HH", which stands for "Heil Hitler". Go look it up.

Yes, Trump is slyly honking the racist dog-whistle in front of your eyes.

HONK-HONKIE!!

-----------

We all know someone who looks terrible without a shirt. You all know what I'm talking about. So do yourself and the environment a favor by hiding their pimples, pockmarks, and back hair behind these beautiful Raging Pencils t-shirts. These are easy-care, 100% cotton shirts and they're yours for just a measly $16.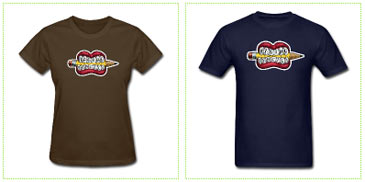 =Lefty=