Free progressive comics every Monday, Wednesday & Friday!
Control-click or right-click to bookmark
Raging Pencils

Looking for a specific Rage comic and/or Rant and can't find it?

The Right Snuff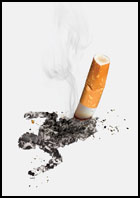 Last week on Reddit someone posited the intriguing notion "If someone would give you a million dollars for a year of your life, how many years would you sell?"

In my mind I immediately turned that around to "How much would you pay to add another year to your life?" After some contemplation a better question occurred to me: "How would you like a free $145,000 plus an ten extra years of your life?"

The answer is: Stop smoking.

A recent study indicates that smoking is not only responsible for a wide variety of serious ailments, including laryngeal cancer, but it also decreases one's lifespan by as much as ten years. As for the money, that's just math. Two packs a day at $5 a pack adds up to $145,000 over 40 years, and that doesn't even BEGIN to cover compound interest. You could buy a pretty decent house with that. Or you can rot your lungs. Your choice.

Last note: In the 8+ years of creating my little 'toons this is the first one about smoking. Without doubt it's the first comic in the history of the world whose punchline was "laryngeal cancer".

-----------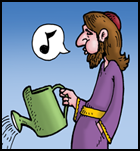 As some of you know I'm also creating Raging Pencils 'toons for the good folks at friendlyathesist.com. Number Four in a series of 666 posted today but you'll have to visit their site to see it. So click either the enticing red link above or the semi-artistic image to your left.

And thanks!

=Lefty=




Patreon. It's like a little fiduciary pat on the ass.
(All comments are moderated. Believe me, it's necessary.)




-------------------------------------------



If you enjoy Raging Pencils, might I also recommend:

••••••••••••••••••••••••••••••••
Can't make sense of the news? Try our selection of progressive nosh:
Dailykos • Crooks and Liars • Think Progress • Talking Points Memo
••••••••••••••••••••••••••••••••

Google Chow (Eat hearty, little Google-bots!)

Little Mermaid: Daddy won't let me smoke. Maybe Ursula can help me.
Ursula: Certainly, Angelfish, and all it'll cost you is... your voice.
Electronic larynx: As Neptune is my witness I had no idea she meant laryngeal cancer.