News... On the March!

Attention people. Settle down. I have several announcements to make and the sooner we get started the sooner we get this over with.

First, I'm happy to say that today is my birthday. Yes, I marked the day with a cheap Biblical gag. They're the best kind. (And, of course, instead of birthday cards in the mail I get ads for pre-planned cremation. Sigh.)
The past year has been VERY eventful for your truly but I somehow survived with all my parts intact. My current plan is to celebrate the exit from one womb by hopefully clambering into another one. Or the next best thing. Wish me luck.

Second, February 10, 2016 will mark the Tenth Anniversary of the very first Raging Pencil comic.

Really? Yeah. Amazing, huh?

This is somewhat problematic as the very first 'toon, along with a double handful of its kin, have been locked away in a high-security facility for being dangerously unfunny, never to be seen again. In any form. So don't ask, although there's always archive.org.

Be that as it may, mark your calendars as you can expect something unsuitable to occur that day.

Thirdly, and most importantly, the first Raging Pencils book is back in production. This iteration will be a 175+ cartoon assemblage of many of my religious-themed gags. As of now the working title is "Beating A Dead Eohippus" and I should have it nailed together by middle of next week. I'll keep you posted for the first possible print date.

----------

One last thing: King of the Graphic Arts, Jose Cruz, whose mutual friendship we've both endured longer than what would be considered reasonable by sane humans, has finally begun offering his delightful graphix as prints. Below is a sample of a few of them. Click through for the full display. You won't be sorry.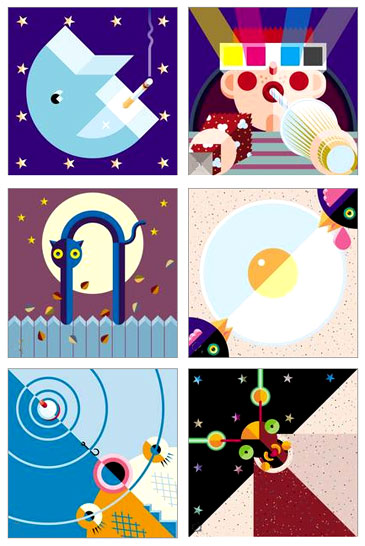 =Lefty=