Never Forget

The GOP screamed "Repeal and Replace" about Obamacare but never created anything to replace it with.

Louis DeJoy is "repealing and replacing" the USPS.
GOP-style.

-------------

Do you know who recommended the Post Office be given a $25 billion dollar loan? An amount that has reduced Fat Hitler to a state of pure hysterical apoplexy.

It was the six members of the USPS Board of Directors.
Every one of which was appointed by t-Rump.

In fact, the postal board of governors asked Congress for $25 billion to cover COVID losses over the next two years, plus another $25 billion for modernization, $14.4 billion in forgiveness of outstanding loans, and a $25 billion line of credit.

So when t-Rump gets up on the podium and cries about all those billions being wasted i mail-in voting, he's lying.

-------------

t-Rump has jumped with both feet into the birther septic tank again claiming he thinks Kamala Harris wasn't born in this country.

It's untrue, of course, so I think it'd be fair if Democrats responded, loudly, by saying a candidate should be automatically disqualified for the office of the President if he or she has companies in other countries.

Convince me I'm wrong.

--------------

A couple of days ago Mike Pence reacted to Kamala Harris's introduction as the Democratic VP choice thusly:

" Well I've got some red meat for you: We're not going to let Joe Biden and Kamala Harris cut America's meat!"
You and I understand the moronic subtext of Pence's fear-mongering, that "Those tree-huggin' West Coast Liberals are going to force everyone to eat kale and broccoli for breakfast, lunch and dinner until the icecaps finally stop melting. I say NEVAH!"

The irony here is: Have you looked at the prices of meat? I'm a vegetarian myself but I have friends who are happy omnivores and they have idly mentioned on more than occasion that they've seriously considered hocking Grandma's silverware just to be able to afford a pound of lean hamburger.

t-Rump's mishandling of the pandemic has led to meat prices approaching a 20-year-high, so if American's are eating less meat it ain't because of Kamala.

However, if there's such a thing as an obesity crisis resultant from fear and uncertainty then the t-Rump administration is the triple-decker-with-onion-rings-and-cheese heart attack special.

--------------

I figured my postman probably needed a smile so I made this little message and taped it to my door. It looks a bit odd because it's behind a screen door.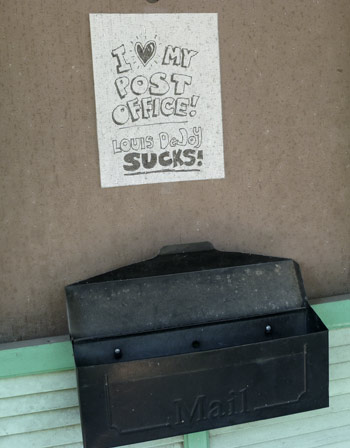 =Lefty=