Free progressive comics every Monday, Wednesday & Friday!
Control-click or right-click to bookmark
Raging Pencils
Raging Pencils is a thrice-weekly progressive comic
developed and created by Dallas-area illustrator
Mike Stanfill, sometimes known as "Lefty", sometimes not.

Nixon sucked! Reagan sucked!
Both Bush's sucked! Trump REALLY sucks!
De-suckify your political life and support
Raging Pencils using Patreon. Thanks!
Search for a specific Raging Pencils comic and/or Rant.

Take Putin, Leave the Kids

Do you like how I made the two Trump supporters look like complete fucking morons in this cartoon? It's an amazing likeness, isn't it? Almost as if I traced a photograph. But, no, it's just a skill I learned in "Life Drawing 101"

------------

Oh, crap! It's July 7th! I totally missed Alex Jones' civil war. I don't know how it slipped my mind. I really wanted to be there when a million pissed-off pussy-hatted Obama inauguration attendees slammed into a tiny handful of tiki-torched douchebags.

But I DID attend the immigration protests last Saturday. I had too many opinions to share for one measly sign so I slapped four of 'em on a box. The tiny text under the "Fuck Trump" says "With a screwdriver". The other two sides of the box featured "Separate Ted Cruz From the Senate" and an appeal to stop kidnapping children, but in Spanish.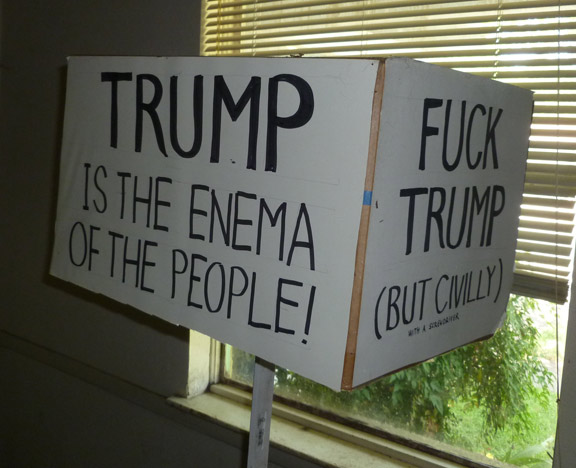 I am the Red Hen. I am Maxine Waters. I am Patricia Okoumou. I am Kristin Mink. I am Robert De Niro.

Fuck Trump.

=Lefty=



Raging Commercialism
Buy someone you barely tolerate a beautiful, 100% cotton
Raging Pencils t-shirt from the RP Spreadshirt store.
(Comments are moderated for misinformation, not content.)




-------------------------------------------



If you enjoy Raging Pencils, might I also recommend:

••••••••••••••••••••••••••••••••
Can't make sense of the news? Try our selection of progressive nosh:
Dailykos • Crooks and Liars • Think Progress • Talking Points Memo
••••••••••••••••••••••••••••••••

Google Chow (Eat hearty, little Google-bots!)

little babysitter girl:
I always adjust my babysitting services to mee the high standards of my clients. Therefore, my rates are $750 per night and if you happen to suffer a misdemeanor while out on the town I get to keep the baby.