Free progressive comics every Monday, Wednesday & Friday!
Control-click or right-click to bookmark
Raging Pencils

Looking for a specific Rage comic and/or Rant and can't find it?

Late 'Toon Alert

Monday's comic has been unavoidably detained. It'll be here around 8-ish, if I'm lucky. =Lefty=

-----------

The Bush Trifecta

You might be noticing that the Raging 'toon for 9-11 was very late today. That's because there was more to do than one person could handle. I hope to populate this Ranty area with something more salient but that won't be until tomorrow.

In case you're wondering, yes, Dubya actually said that phrase sometime in mid-September 2011, reportedly often and while smiling at his dumb joke. Fuck that guy.

=Lefty=

------------

One more thing.... I posted new comic over at the Friendly Atheist last Friday. If you're intrigued by the teaser below just click this link or the image to see the hilarious punch line.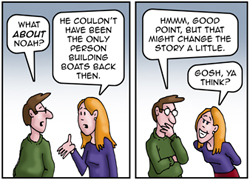 =Lefty=





Support Raging Pencils and I'll eat a bug.
(All comments are moderated. Believe me, it's necessary.)




-------------------------------------------



If you enjoy Raging Pencils, might I also recommend:

••••••••••••••••••••••••••••••••
Can't make sense of the news? Try our selection of progressive nosh:
Dailykos • Crooks and Liars • Think Progress • Talking Points Memo
••••••••••••••••••••••••••••••••

Google Chow (Eat hearty, little Google-bots!)


We shall never forget the stirring words of President Bush shortly after the attack on 9-11:
George Bush standing on rubble pile with megaphone.
Lucky me! I hit the trifecta!
Actual quote. Bush promised to run a budget surplus unless there was a recession, war, or national emergency.