Free progressive comics every Monday, Wednesday & Friday!
Control-click or right-click to bookmark
Raging Pencils

Looking for a specific Rage comic and/or Rant and can't find it?

Tardy Bell

The comic was VERY late today (Wednesday) for a variety of very bad reasons... or was it very good reasons? Time will tell.

-------------

It's a Two-Fer Wednesday as I also have a new comic at the Friendly Atheist. Below is the usual sample to pique your interest so click here or the image itself to see the rest of it.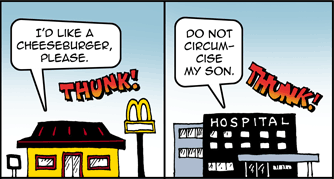 =Lefty=




A buck a month, that's all I'm askin' ya.
(All comments are moderated. Believe me, it's necessary.)




-------------------------------------------



If you enjoy Raging Pencils, might I also recommend:

••••••••••••••••••••••••••••••••
Can't make sense of the news? Try our selection of progressive nosh:
Dailykos • Crooks and Liars • Think Progress • Talking Points Memo
••••••••••••••••••••••••••••••••

Google Chow (Eat hearty, little Google-bots!)

News man
Dateline July 14th, 2015. Tehran is in flames tonight as U.S. cruise missiles destroy strategic infrastructure.
U.S. ground forces prepare to invade Iran from both Iraq and Afghanistan. Losses are predicted to be heavy.
Instability in the Middle East is predicted to drive oil prices towards record highs.
Incidents of Shootings involving citizens of Iranian descent are being reported across America.
Democrats protest that funding for this police action will once again be borrowed from the Social Security trust fund.
A space probe took pictures of a big moon.
President Romney advises all Americans to continue shopping.
More after this.