Free progressive comics every Monday, Wednesday & Friday!
Control-click or right-click to bookmark
Raging Pencils

Looking for a specific Rage comic and/or Rant and can't find it?

Wall Street Weak.

The Wall Street Journal recently weighed-in on income inequality and opined "Tish-tosh! If you took all the salaries of a million-employee company and shared them equality it would raise worker hourly pay by only a nickel. A NICKEL!"

Well, yeah, but if you had a thousand employees and a million-dollar payroll that means everyone gets $1000, CEOs included. But if that one guy got his 300X CEO payroll that leaves $770 per person for everyone else.

$770 vs. $230,000. Hmmm. Don't seem right.

The WSJ's conclusion is that the difference is really 5-1 but the Washington Post thinks otherwise, pegging the ratio at 354-1. I know which one I'm going with. (Click chart for larger version.)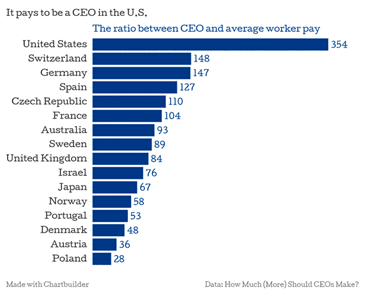 -----------

=Lefty=




Patreon. Almost as effective as begging on a streetcorner.
(All comments are moderated. Believe me, it's necessary.)




-------------------------------------------



If you enjoy Raging Pencils, might I also recommend:

••••••••••••••••••••••••••••••••
Can't make sense of the news? Try our selection of progressive nosh:
Dailykos • Crooks and Liars • Think Progress • Talking Points Memo
••••••••••••••••••••••••••••••••

Google Chow (Eat hearty, little Google-bots!)

Boss: I realize it seems alarming that CEOs makes 300 times the average worker salary but if you pool employee resources the inequality doesn't appear quite so stark.
Employee: You mean like... form a union?
Kahuna: I'm sorry. Let me rephrase that....
You're fired.