Free progressive comics every Monday, Wednesday & Friday!
Control-click or right-click to bookmark
Raging Pencils

Looking for a specific Rage comic and/or Rant and can't find it?

Tap Doubt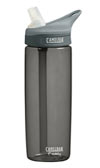 Americans will drive far out of their way to save a nickel on gas but they'll happily pay $1 for one penny's worth of water.

STOP DOING THAT!

The only scam worse than bottled water is homeopathy. And that's water with the secret ingredient of nothing, which costs a zillion bucks, or thereabouts, per dose.

STOP DOING THAT, TOO!

The only reason people should be using bottled water is immediately following a natural disaster devastating enough for people to begin considering cannibalism.

We trash fully 80% of plastic water bottles and that shit's got to stop, so quit putting your legs in the air every time an Evian commercial comes on and use the water fountain, buy a reusable water bottle, or just drink your own urine until you get home. Remember, I am watching you and I will judge you!

Booga-Booga!

=Lefty=




Patreon. Almost as effective as begging on a streetcorner.
(All comments are moderated. Believe me, it's necessary.)




-------------------------------------------



If you enjoy Raging Pencils, might I also recommend:

••••••••••••••••••••••••••••••••
Can't make sense of the news? Try our selection of progressive nosh:
Dailykos • Crooks and Liars • Think Progress • Talking Points Memo
••••••••••••••••••••••••••••••••

Google Chow (Eat hearty, little Google-bots!)

And that's why bottled water is the perfect way to impress women.
Rebelliousness: Recycling? Hah! Recycling is for sissies!
Sophistication: Hmmm... note of pine, leather, smoke, and a tart finish. This is definitely a '68 Fiji mountain stream.
Fearlessness: Aw! Who's afraid of a few cancerous chemicals?
Generosity: It's like a diamond, babe. They charge 1000 times more than it actually costs, but you're worth every penny.