Free progressive comics every Monday, Wednesday & Friday!
Looking for a specific Raging comic and/or Rant and can't find it?

I'm A Nugget Man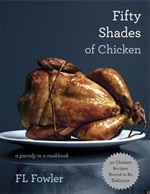 I created this sophomoric cartoon because I wanted to draw that lady chicken. That's all. For some reason I think chickens in lingerie are high-larious, so I'm enjoying this 'toon even if you aren't.

--------------

This weekend I upgraded my internet, literally tripling my download and upload speeds in the process. But, as karma would have it, the new service killed my email access so I had to spend most of Saturday fixing the problem myself as fucking AT&T certainly wasn't going to help. In fact, the main thrust of their helpline was an attempt to scare me into enrolling in a $15-a- month service package that would protect my Mac from all those mean, deadly, awful viruses out there on the inter-tubes.

Bwah-ha-ha-ha-ha-ha-ha-haaaaaaaaaa!

I deferred. Nicely, though.

Everything is now apparently back to normal but it's a tenous peace as I know my solution probably circumvented some essential corporate razzle-dazzle designed to keep my absurdly frequent, high-speed chicken-porn downloads to a bare minimum.

Oh, crap! Did I just say that out loud?

=Lefty=




(All comments are moderated. Believe me, it's necessary.)




-------------------------------------------



If you enjoy Raging Pencils, might I also recommend:

••••••••••••••••••••••••••••••••
Can't make sense of the news? Try our selection of progressive nosh:
Dailykos • Crooks and Liars • Think Progress • Talking Points Memo
••••••••••••••••••••••••••••••••

Google Chow (Eat hearty, little Google-bots!)


Customer: I'd like chicken strips with gravy.
Clerk: Yes, sir!
Clerk to chicken: Wait here, I'll get the gravy.