Free comics every Monday, Wednesday & Friday!
Looking for a specific Raging comic and/or Rant and can't find it?

I'm Killin' 'Em!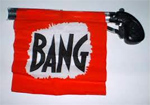 What time is it when a responsible member of the NRA with an assault rifle kills half of the children in a grade school?

Time to reload.

And what do you give the armed revolutionary who has everything?

A self-inflicted headshot.

How do you make a gun aficionado's eyes light up?

You mount the tactical laser backwards.

Why did the righteous patriot bring an 18-shot magazine to the movies?

Because the sign said "Under 17 not admitted".

Why do God-fearing proponents of the Second Amendment hate golf?

Because you can only shoot 18.

What do Constitutionally-protected owners of military-grade weaponry call a movie theatre?

A target audience.

Why do opponents of fascist/marxist/socialism always carry a gun in their car?

So they can park in the handicap zone.

How do you define the word 'eternity'?

Four stand-your-grounders at a four-way intersection waiting for the others to make the first move.

What is the NRA's response to 36,000 Americans dying each year from gunshots?

Nice try.

--------------

In case anyone is wondering why I created such a simple cartoon today there are two good reasons:

(1) Time was short.

(2) Randall Munroe's template for this topic was freaking perfect. Tarting it up in Vermier-like detail would not have made the point any stronger. (You can see his original version here.)



=Lefty=



(All comments are moderated. Believe me, it's necessary.)


-------------------------------------------



If you enjoy Raging Pencils, might I also recommend:

••••••••••••••••••••••••••••••••
Can't make sense of the news? Try our selection of progressive nosh:
Dailykos • Crooks and Liars • Think Progress • Talking Points Memo
••••••••••••••••••••••••••••••••

Google Chow (Eat hearty, little Google-bots!)

Are you coming to bed?
I can't. I must clean my gun.
Why?
Because someone out there is wrong.

My apologies to Randall Munroe).