Free comics every Monday, Wednesday & Friday!
Looking for a specific Raging comic and/or Rant and can't find it?

Hug A Vet!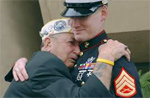 My sincere condolences go out to all the families of servicemen who were killed or wounded in this country's many wars, but I dearly wish that the petroleum, steel, and munitions companies who profited from the blood of our soldiers all fall into open sewers and die.

Happy Memorial Day, everyone.

=Lefty=



Fifty years ago Phil Ochs asked us "What Are You Fighting For?". The question still hasn't been answered.
(All comments are moderated. Believe me, it's necessary.)


-------------------------------------------



If you enjoy Raging Pencils, might I also recommend:

••••••••••••••••••••••••••••••••
Can't make sense of the news? Try our selection of progressive nosh:
Dailykos • Crooks and Liars • Think Progress • Talking Points Memo
••••••••••••••••••••••••••••••••

Google Chow (Eat hearty, little Google-bots!)

GOP baby elephant crying, with a "My L'il Impeacher" hammer in his hand.
Square pegs are labeled Sebelius, fast and furious. Obamacare, Obama, I.R.S., Solyndra, Benghazi, Pigford, Associated Press. The comic about the GOP's priaprism for scandal and impeachment.