Towel Day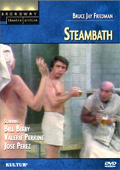 You find yourself in an unfamiliar steam bath accompanied by a small, though colorful cross-section of Americans. You're dead, but you don't know it.

This is the premise of Bruce Jay Friedman's second stage play, "Steambath", which PBS first broadcast in its entirety in the late 70s. I recently discovered it's available on DVD and now contentedly own a copy.

Purr-purr.

It stars the late Bill Bixby and he does a splendid job as the average guy seeking to, at first, establish why he's there and, later, if he honestly deserves to die. Or live. It's a harder question to answer than you may think.

It also stars the always adorable Valerie Perrine who spices the production with a fine display of her glorious "instrument". (Yes, there is brief nudity but it is a steam bath, after all.)

The steam bath in this production is actually God's waiting room and He appears, very unmajestically, to attend the stories of his transitory wards. They're moving and thoughtful and often very funny.

I expected to find the whole thing on youtube but was amazed to discover all it offers is a few choice snippets. It's definitely worth watching so look for it on Netflix (DVD only) or on Amazon.

=Lefty=
--------------------

Oh, that Mitt.



At a recent speech before the National Association of Latino Officials (NALEO) Mitt Romney said "Obama has not signed a single trade agreement with a Latin American country since he became President."

President Obama has, in fact, signed trade agreements with both Colombia and Panama.

At the same speech Romney refused to address the Dream Act even though before Republican audiences he promised draconian immigration policies.

Mitt Romney is a liar. A big fat, liar.
---------------------
And now our Chart of the Day: Vast Divergence Between Corporate Profits and Wages.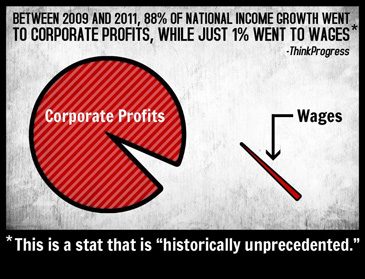 ------------

Republican Job Creation Update



6-25-2012: The House adjourned on Friday. No jobs were created.

For the full 2001-2012 list of Republican sloth please visit republicanjobcreation.com.
------------

Fox News Lies. Dump Fox News



Fox News, doing its best to snatch food from the mouths of hungry Americans, forgetting that the Bush Depression drove millions to rely on government food aid.


Click here to help Drop Fox from your cable system.