If It's Brown, Quaff It Down.



Every winter I wait with gleeful anticipation for the time when the temperature drops into the single digits for extended periods of time. I long for days of brass monkey-shriveling cold, possibly accompanied by the kind of inclement weather that requires teams of mutant Mongolian sled dogs to deliver my goat cheese and sun-dried tomato pizza.

Because that's when I break out the hot chocolate. OMChtuhlu, THAT is how I measure my happiness. Is there anything better on a cold day than a mug of steaming hot Hershey's? (Except, perhaps, Morena Baccarin in an undersized Snuggie playing Twister over your entire body.)

This winter, though, I managed exactly two cups of hot chocolate. Two freakin' cups. I don't care what the climate change deniers say, this is a serious indication it may be time for the Koch brothers to start playing human centipede with Al Gore's adumbrate keister.

----------------



Speaking of Earthly Delights, this is what's left of the box of hand-made truffles Beloved Girlfriend made for me with her own three little hands for Valentine's Thingy. (Click for larger picture)

I wuv my BG, who understands that my earlier salacious reference about Morena Baccarin was purely in jest. Right? Right?

----------------

Note 1: "The Ten, Make That Nine, Habits of Very Organized People. Make that Ten. the tweets of Steve Martin." I mention this book only because it was fun to write the title.

Note 2: While I'm shamelessly shilling for the gods of comedy: "2030: The Real Story of What Happens to America" by Albert Brooks.

Note 3: White supremacy-championing, Hitler-excusing, Mexican soccer-hating, Palin-promoting, homophobic blowhard Pat Buchanan's vow to spout total gibberish over the public airwaves as long as our boys were in Afghanistan has, sadly, been cut short by the feminazi bean-counters at MSNBC who today gave him his walking papers and, presumably, a map to the Fox News human resource department.

Note 4: 25% of the world's prison population are American citizens. We're locked away in record numbers for the benefit of corporations, to work as their slaves for pittances. Decriminalize drug laws now.

Note 5: Speaking of which, Portugal decriminalized drugs in 2007 and the results have been a resounding success.

------------

And now our Chart of the Day: Value of high flavanol-containing foods. (This is why you need to eat your chocolate... or plums dipped in chocolate.)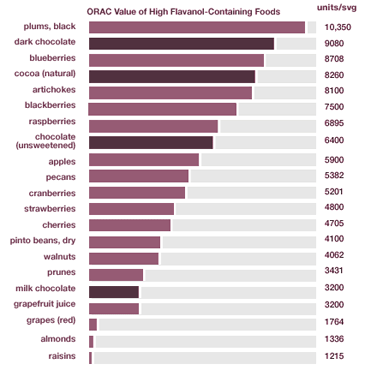 Click for marginally enhanced version.

=Lefty=

------------

Republican Job Creation Update



2-17-2012: The House will presumably vote on and pass the payroll tax extension today. Then they'll leave town for ten days in order to celebrate Presidents Day. Cushy gig.

------------

Dump Fox News



Unemployment numbers are dropping. Trust Fox News to look for the concrete lining.

Click here to help Drop Fox from your cable system.