More One Percent Fun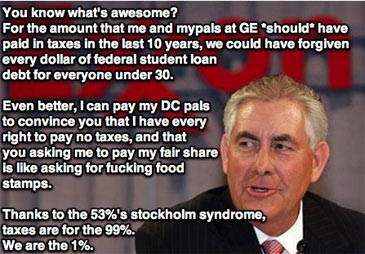 The above image is from "We Are The 1%, Bitches!"

There's much more fun and frivolity there, so go. Enjoy!

And, of course, share.
------------

This past weekend Beloved Girlfriend and I Netflix-ed John Carpenter's remake of "The Thing". I had not seen the film since it first lit the screens in 1982 and I discovered that my opinion of it has not changed one tiny bit in all those years. I.E., it would've been a much better movie if all of the characters hadn't acted like a pack of blithering morons from opening title to end credits.

Still, the direction evokes a wonderful paranoid creepiness throughout and the startling analog creature sequences alone are worth the price of admission. Check it out.

=Lefty=

------------

Republican Job Creation Update



"We're going to have a relentless focus on creating jobs." - John Boehner, February 10, 2011.

The following is #101 in a list of Republican job creation activities since they gained control of the House in 2011. None, sad to say, have yet to result in one, single new job.

(101) 10-24-2011: The GOP is still on vacation but that doesn't stop Republican congressman Paul Ryan from rolling up his sleeves and trying to cut Pell Grants. He thinks they're a scam even though he himself used government money to put himself through college. Thanks a heap, ya hypocrite.

NOTE: As a result of an unexpected wave of enthusiasm the Republican Job Creation update now has its own web site. It will remain on the RP but a web site of its own will raise its visibility on the 'net as we progress towards the critical 2012 elections. And I thank you for your support.

------------

Dump Fox News



And what manner of lie is Fox News spewing today? Bill O'Reilly is piddling his panties over an imaginary "War on Halloween".

Click here to help Drop Fox from your cable system.