New, free comics every Monday, Wednesday & Friday!
Raging Pencils
by Mike "Lefty" Stanfill

Bookmark me
•
Contact me
•
Twitter me, Herbie.

Today's mystery web comic is:
E-MERL

Empty Stockings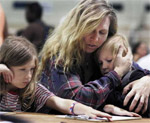 The numbers are staggering.

According to the U.S. Depratment of Agriculture's recent report over 49 million Americans don't have enough to eat, and over 17 million of them are children. That's an increase of over 35% since last year.

This isn't some distant country below the equator we're talking about, these are your countrymen, perhaps citizens of your city, maybe even your neighbors.

Food banks used to take up this kind of slack but contributions, mostly from large corporations, aren't keeping up the pace due to the severity of the Bush recession.

So it's back to us, the people, to help feed one another until the crisis passes. It's one of those "socialist" ideas that work as long as everyone chips in. So click here to visit the Second Harvest/Feeding America web site and locate a food bank near you. Every little contribution helps.

And thank you.

=Lefty=


Raging Pencils salutes the Mystery Readers of
Noisy-le-grand, Finland
Whoever you are, thanks for reading my impulsive little 'toon.
Still hungry for real news and analysis? Try our selection of progressive nosh:
Dailykos • Crooks and Liars • Think Progress • Talking Points Memo
Today's Google Chow.

Girl on Santa's knee: "Well, yeah, I suppose a new Barbie would better serve the GDP but, to be honest, I'd like mom to worry a little less about how she's going to feed us."