Know Your Scumbag, Part 6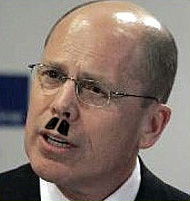 This is Stephen J. Hemsley, CEO of UnitedHealth Group. His compensation totaled only $3.2 million in 2008 but was $13 million in 2007.

UnitedHealth Group has been one of the most active companies resisting health care reform, even advising their employees to attend and disrupt the many town hall meetings around the country using a list of company-supplied talking points.

Conveniently enough, on August 25th, 2008, Keith Olbermann offered an expose on UnitedHealth Group's underhanded tactics on his Countdown program. It can be seen here on youtube.




--------



You know about This American Life, don't you? The wonderful NPR radio program that looks at, well, everything? Their program on the banking meltdown laid it all out in a way no other program has done since.

Last week's episode concerned health care and it's definitely worth a listen. You can find the podcast here.

Get it while it's hot, and free.

=Lefty=