Know Your Scumbag, Part 5C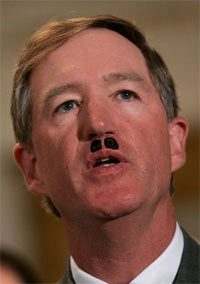 Just when I'm ready to move on to the next insurance company sleezebag, up pops a story I cannot resist.

This is our old friend, H. Edward Hanway. He's the CEO of Cigna Insurance, a job which pays him a cool $12 million a year. (That we know of.)

So here's the latest tale involving Eddie's day job:

Nataline Sarkisyan (see below) was a 17-year-old girl who needed a liver transplant. Her parents had insurance with Cigna but the company declined to authorize the surgery as they considered it "experimental", even though that's far from the case.

As Cigna stalled Nataline's condition became worse. She contracted a lung infection while waiting in the hospital and was eventually put into an induced coma to save her life.

Finally, after weathering a media firestorm over their obvious heartlessness the company relented and okayed the procedure. Nine hours later, long before the surgery could be undertaken, Nataline died from complications of her disease in December 0f 2007.



Hilda Sarkisyan, the mother, Nataline, walked into Cigna headquarters on October 7th, 2009, demanding a formal apology from the company for the death of her daughter.

All she received for her efforts were employees giving her the finger from the second floor atrium.

Ha. Ha. Ha.

Cigna. Don't ask for it by name.




--------



While we're on the subject of boobs, lets talk phallic symbols.

I recently paid the extra dime per pound and sprung for organic bananas last week rather than the regular bananas I've been eating almost every single day of my life.

After finally scarfing the last one in the bunch I have to say I'm officially spoiled. These things have more flavor, mouth appeal, solidity and seem less inclined to turn to mush at the last second than the standard variety.

I'm not sure what makes these bananas more "organic" than the others but it works for me. Check 'em out.

=Lefty=