Free progressive comics every Monday, Wednesday & Friday!
Looking for a specific Raging comic and/or Rant and can't find it?

Boom! Bang!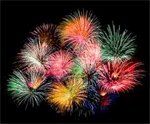 It's refreshing to experience a day in America where anything that might sound like gunfire probably isnt.

Happy Fourth of July, folks! Have a great weekend!




=Lefty=

(All comments are moderated. Believe me, it's necessary.)




-------------------------------------------



If you enjoy Raging Pencils, might I also recommend:

••••••••••••••••••••••••••••••••
Can't make sense of the news? Try our selection of progressive nosh:
Dailykos • Crooks and Liars • Think Progress • Talking Points Memo
••••••••••••••••••••••••••••••••

Google Chow (Eat hearty, little Google-bots!)

Scientist at observatory telescope: Good Heavens! I believe I've discovered a planet that will support human life!
Destroyed Earth.
Anonymous guy: Good. We'll need one.