New, free webcomics every Monday, Wednesday & Friday!


Bookmark me
•
Contact me
•
Twitter me, Tom.
(Note: I have little or no control on ad content. Consider it "found comedy".)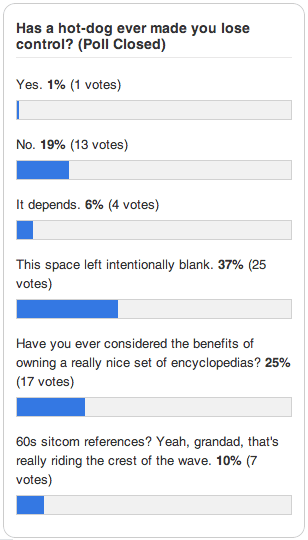 Today's mystery web comic is:
UNDERPANTS JAIL




Funny


I'd like to run off at the mouth about something important but, as time is short, I shall instead leave you with this:

The Washington Post web site conducted a poll to find which of seven reader-selected web comics was the best of the last decade. Over eighteen million ballots were cast. The results:




Girl Genius: 14%
Hark! A Vagrant: 14%
Least I Could Do: 14%
Penny Arcade: 14%
Perry Bible Fellowship: 14%
Schlock Mercenary: 14%
xkcd: 14%

I am not making this up.

The lesson: God and politics are one thing but don't fuck with people's love of their web comics... especially those who know how to hack online polls.

------

BTW, it's becoming apparent that some of you have yet to hear about the awesomeness of Fuck My Life at fmylife.com. Check it out, it's great!

=Lefty=

Raging Pencils salutes the Mystery Readers of
Gamli Vesturbaer, Iceland
Whoever you are, thanks for reading my aerobic little 'toon.

A blast from the nasty past. The RP from 6-16-08.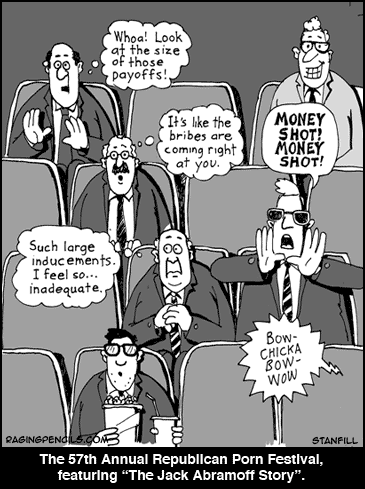 Can't make sense of the news? Try our selection of progressive nosh:
Dailykos • Crooks and Liars • Think Progress • Talking Points Memo
Today's Google Chow.

Scene: Disgusted man in hotel bed. Naughty words seeping out of walls from neighboring rooms.
Democrat room: "YES! YES! OH, GOD! YES!"
Republican room: NO! NO! OH, GOD! NO!
Tea-bagger room: "Okay, this time you be Glenn Beck and I'll be Grover Norquist."
Caption: Once, at a hotel, I was kept awake the entire night by what like sounded like Republicans, Democrats and Tea-baggers all having sex. Fuck my life.