New, free comics every Monday, Wednesday & Friday!


Bookmark me
•
Contact me
•
Twitter me, Hourly.

Today's mystery web comic is:
THE MEEK




Out On A Limb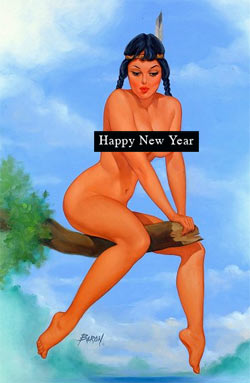 It's 2010 at last, and here are my Top Ten startling predictions for the coming year:

(1) Many people will die quiet, unspectacular deaths.
(2) A novel musical star will arise.
(3) A congressman will be caught in a sex scandal.
(4) Roger Ebert will piss off some fan boys.
(5) The value of pi... remains unchanged.
(6) Jesus will fail to return, again.
(7) A youtube cat video will be watched millions of times.
(8) Dick Cheney will continue to be a massive dick.
(9) I will get paid less than I deserve.
(10) I will get laid more than I deserve.

=Lefty=


Raging Pencils salutes the Mystery Readers of
Grenville, Granada
Whoever you are, thanks for reading my cyclical little 'toon.
Still hungry for real news and analysis? Try our selection of progressive nosh:
Dailykos • Crooks and Liars • Think Progress • Talking Points Memo
Today's Google Chow.

Old Man 2009 talking to baby 2010.
2009: "You know, from this angle you can kinda understand why this was such a crappy year."