New, free comics every Monday, Wednesday & Friday!
Raging Pencils
by Mike "Lefty" Stanfill

Bookmark me
•
Contact me
•
Twitter me, Thelma.

Today's mystery web comic is:
STARSLIP

And the Last Will Be the Last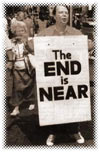 Well, Thelma's the last of them. Come Xmas Eve around midnight I'll make the Big Reveal and we'll all know who the killer is. After that, it's back to the old comedy grind. I'm going to miss the Family Circus bunch somehow. They're so killable.

-----------

The sharper-eyed among you may have noticed that I switched from the Flash widgets to plain GIFs for all but the most recent cartoon in the Advent Series. From my web logs it was clear that the little gadgets were slowing people down, and this way they can hammer through the series with single mouse clicks. So don't say I didn't do anything for you.

-------------------

Google recently sent out a holiday card, the reason for which was to announce that they'd recently donated $20 million to charity this holiday season. The first name on the list?

Feeding America.

Yup, the very organization I adopted as my cause for the season. I know for a fact that several of you succumbed to my constant barrage of guilt and forked over a few bucks and for that I thank you most sincerely.

As for the rest of you? Well, there's still time. So be a good guy or gal and donate a few bucks to your local food bank.

And thanks!

=Lefty=


Raging Pencils salutes the Mystery Readers of
Uglijan, Croatia
Whoever you are, thanks for reading my ghastly little 'toon.
Still hungry for real news and analysis? Try our selection of progressive nosh:
Dailykos • Crooks and Liars • Think Progress • Talking Points Memo
Today's Google Chow.

The Family Circus Homicide Advent Calendar, Day 23: Thelma gets liquidated.

Thelma dissolved in a ghastly whoosh,
the result of a hydrofluoric douche.