Happy Good Riddance Day Eve!

"We are what we think. All that we are arises with our thoughts. With our thoughts, we make the world."
- Buddha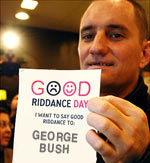 Goodbye, George W. Bush.

Farewell, Mr. 22%.

Au revoir, Mr. It Wasn't My Fault.

Auf Wiedersehen, Mr. Mission Accomplished.

Toodle-ooh, Mr. Faux Cowboy.

Good riddance, Mr. Miserable Failure.

Mr. Gutless Whiner.

Mr. Waste of DNA.

Mr. Worst. President. Ever!

Don't let the doorknob hitcha where that pretzel splitcha.

------

On Tuesday over two million people are going to show up in Washington D.C. to celebrate the end of the Bush era and the glorious beginning of real change in this country.

But it wasn't supposed to have happened.

You see, the Republican-owned media made sure that the two most-likely Democratic presidential candidates were the two people that would be the easiest to smear after the national conventions were finished.

Can you just imagine how they were licking their chops at the prospects of trashing a black man whose middle name was "Hussein"? Or a woman? A woman, for Christ's sake, actually running for the office of president?

Who did these people think they were?

Fifty-eight million Americans fell for the ensuing lies and distortions but sixty-seven million Americans held steady and, thus, on Tuesday change comes. And on Wednesday we start again.

And I sincerely hope that this includes the first of many, many congressional subpoenas.
=mike=